SUSTAINABLE DEVELOPMENT GOALS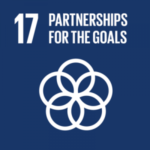 SDG 17: PARTNERSHIP FOR THE GOALS
"Sustainable development is the responsibility of every part of society, across the world. It cannot be achieved without linkages, across the goals, but also between institutions, governments, companies, NGOs, and people."
(THE Impact Rankings)
Relationships to support the goals
Relationships with regional NGOs & gov for SDG policy
Cross sectoral dialogue about SDGs
International collaboration for SDG
Collaboration for SDG best practice
Collaboration with NGOs for SDGs
Education for SDGs commitment meaningful education
Education for SDGs specific courses on sustainability
Education for SDGs in the wider community
Education for SDGs commitment meaningful education
IPB University has a strong commitment to delivering meaningful education around the SDGs as it is closely related to the core mandate of the university to develop science and technology in the field of tropical agriculture, ocean, and biosciences. Sustainable development has become a key point in the curriculum development of IPB University, and it gets more emphasis in the new curriculum developed in 2020 (K-2020). Here is a list of study programs at IPB University and some examples of syllabus provided by several study programs. 
3. KKN-Terpadu IPB
IPB University also implements curriculum-based student activities for community development, named KKN-Terpadu. This program is mandatory for all third-year students. In this program, IPB University sends the students to many places in Indonesia to learn from the communities and to share and exchange their knowledge with the communities in achieving SDGs. 
3. Seminars
IPB University organizes regular seminars that can be attended by students and the public. Many of these seminars have topics on SDGs and have become a media to educate students and the public on SDGs. Here are several seminars organized by the Graduate School of IPB in collaboration with Center for Transdisciplinary and Sustainability Science (CTSS) and the Directorate of Scientific Publication and Strategic Information (DPIS).
Education for SDGs specific courses on sustainability
IPB University has the mandate to develop science in the field of agriculture, ocean, and biosciences, which has strong relevance to sustainability and SDGs. IPB through its Graduate School has a master's and doctoral program in Environment and Natural Resource Management. For undergraduate, first year students have been introduced to sustainability-related subjects as part of their Common Core Courses (CCR), such as Innovative Agriculture, Land in Agriculture – Environment Nexus, Forestry, and Environmental Ethics, Conservation of Environment and Bioresources
Common Core Courses (Page 3-4 and description in page 8, 15-17)
Education for SDGs in the wider community
IPB University actively conducts outreach educational activities for the wider community, including local people, alumni, and displaced people. This is part of the University Tridharma. These activities are implemented at various scales with various topics according to core competence developed by faculties and study programs. The followings are several outreach educational activities implemented this year: 

1. Campaigns to Raja Ampat Student for Conservation and Sustainable Utilization of Coastal and Ocean Resources 
The campaign is aimed to increase awareness of youth in Raja Ampat's small islands. This is important because the young generation will be the future leaders and decide how the resources that are known as the center of the world's corals will be managed in the future.
2. Training for MSMEs to Develop Strategies in the Digital Era and Pandemic
CARE LPPM IPB University and Pertamina EP Trained MSMEs to assist them in developing their business through the use of digital technology which is very important and helpful during the pandemic and in the future. 

3. Faperta IPB University Launches IPB Innovation Village – Subang
IPB University continuously introduces innovations to the local communities, and one of them is through the establishment of an innovation village. Within this program, there will be no barrier between the university and the community, as access to innovation and knowledge is widely opened.  
Proportion of Students Receiving Financial Aid
It seems we can't find what you're looking for.