SUSTAINABLE DEVELOPMENT GOALS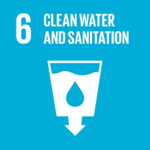 SDG 6: CLEAN WATER AND SANITATION
"Without water we can't live. Water supports out agriculture and aquaculture. Clean water is vital. However, due to bad economics or poor infrastructure, millions of people including children die every year from diseases associated with inadequate water supply, sanitation and hygiene."
(THE Impact Rankings)
Water consumption per person
Water Consumption Tracking
Water Consumption Tracking
IPB University has 2 stations of Clean Water Treatment Process (WTP) at Dramaga Campus. The total water consumed at IPB University during 2021 was 1,488,297 m3 (a 69% decrease compared to 2019 due to the pandemic) (Sustainability Report page 36; Water Processing System page 5).
Preventing water system pollution from polluted water
Free drinking water provided
Water-conscious building standards
The IPB University has a water reuse policy to maximize water reuse in IPB University, regulated in IPB Rector's Decree No. 133/IT3/LK/2020 concerning IPB's commitment to SDGs Achievement.
Rector's Decree No.133/IT3/LK/2020: Commitment to Achieving SDGs
The IPB Senate's academic text mandates water reuse for the park's maintenance (Water Sensitive Management, page 108, Evidence 2). Biodiversity Park and Inspiration Lake is a water conservation program implemented by IPB University within the campus area. This program aims to sustainably manage freshwater resources and prevent water pollution in nearby lakes, rivers, and local watersheds in the IPB University environment. 
The directorate of general affairs measures and monitors water reuse at IPB University. Water use in IPB is sourced from 3 main components, namely the water treatment process, lakes, and regional drinking water companies. Most water use in IPB is sourced from water recycling through water treatment and artificial lakes.
Water management educational opportunities
Promoting conscious water usage
Off-campus water conservation support
Sustainable water extraction on campus
Cooperation on water security
Volume of water used in the university: Inbound (treated/extracted water)
Number of campus population
It seems we can't find what you're looking for.